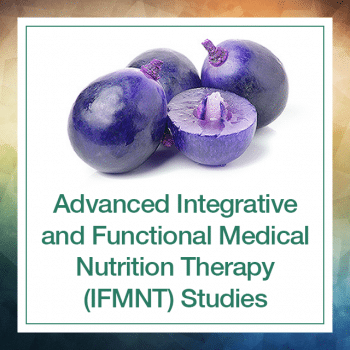 Newly updated IFMNT training intensive (w/optional credential)
Now expanded to 100 preapproved CPEs for RDNs!
Early Bird Registration ENDS TODAY!
Next Live Webinar Series Begins January 2023 ***
Note: As these Advanced topics are now included in IFMNT Certificate of Training, this course is exclusively for participants of 17-19, 18-19, 19-20 (January start), or 19-21 (Fall Start) Certificate of Training (COT) 
IFMNT Advanced Training offers a mix of live and pre-recorded webinars covering specialty topics and testing used in an IFMNT practice. Alternating week sessions offer a comfortable and easily manageable pace of learning. This course is a must for anyone who wants to practice at the deepest level and become an expert IFMNT authority!
Topics Covered in this training:
ADHD/Autism spectrum disorders
Therapeutic use of Ketogenic diets
Hormone health/gender wellness
Addictions/Eating disorders
Neurotransmitter balance in mood disorders and Adrenal health
Biotoxin Illness
Genomic application throughout the course
Advanced Laboratory testing – Organic Acids, Amino Acids, etc.
Also included:
Case studies to demonstrate application of your learning
Loads of handouts and additional learning links
Private course forum for class participants to network and for additional Q & A between sessions
Don't let your availability get in the way…All live sessions are also recorded offering the option to do this course as an on-demand learning experience. Self-study quizzes are given for each topic to help you stay on track and prepare for the (optional) FMNS credentialing exam.
Join an elite group of IFMNT experts – Earn your FMNS credential!
Qualifications to earn the FMNS credential include:
Have completed our Foundations (Intro) in IFMNT course (or earned opt-out approval)
Have completed our IFMNT Certificate of Training (COT) course, with successful certification
Have completed the minimum of a 6-session series of IFMNT Grand Rounds interactive series
Have completed the IFMNT Advanced course and successfully completed a 150-question exam covering the advanced topics
Submission of a progressive case study (over multiple visits) by the end of the Advanced course exam period following course completion.
Note: Due to extensive added program content, if you took Level 2 (or COT) prior to 2018, and you wish to earn the FMNS credential, you'll need to enroll in our new COT/credentialing program (not this course) – please inquire for more information and for alumni discount for same
Early Bird expires June 25!